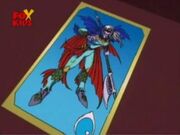 Franken is the Queen of the Sea Enterrans (King of the Sea Enterrans in the English dub) and one of the Seven Enterran Generals.
She was one of the seven enterra generals that fougth humans and ultimately destroy almoust all of them .Franken was carded and her card was seen in the possession of Rusephine.She later realized that she had not enough power to defeat mushra, sago and Kutal, so she absorbs the power of all six enterra generals and obtainded a great power, nothing compare of course with the power of gold mushrambo.
Ad blocker interference detected!
Wikia is a free-to-use site that makes money from advertising. We have a modified experience for viewers using ad blockers

Wikia is not accessible if you've made further modifications. Remove the custom ad blocker rule(s) and the page will load as expected.